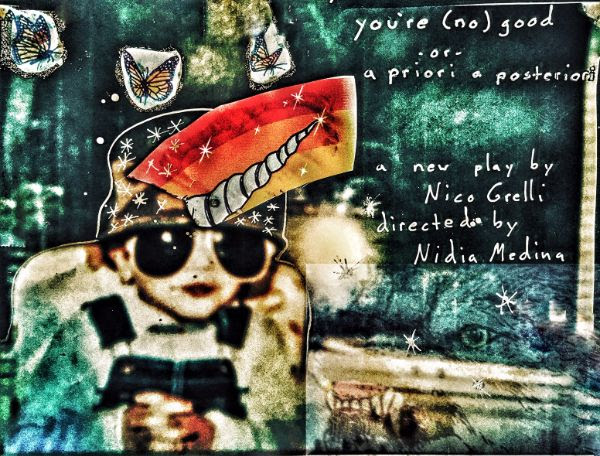 Join us on Sunday, June 30th for a MadLab reading of
you're (no) good
or
a priori a posteriori
by Nico Grelli 
directed by Nidia Medina
Use code NYMFRIENDS for $5 tickets! 
Werewolves and Unicorns. Elliot Smith and Kali the Destroyer. Recurring Dreams and Recovered Memories. PTSD and Panic Disorder. The Binary and The Spectrum. Aliens and Ben Affleck. Mortadella and Mayonnaise. Come watch Sammy and the folks they hold dear navigate these and other funky complexities in an attempt to heal from life's lower-vibratory fuckery.
 
Featuring:
Hennessy*
Jen Anaya*
Rami Margron*
Rocky Vega*
Max Woertendyke*
Tom Patterson*
*AEA member
**this play originated from pieces written for NY Madness
and also received developmental support from The Tank**
***
***
NYM in Residence


2019
January 27 – The Playwriting Collective
March 31 – All-Women Latinx
April 28 – Elephant Run District
May 26 – The Anthropologists
June 30 – MadLab Reading – Nico Grelli
July 28 – All-Company 
Thank you to our generous donors!
If another 100 supporters
each gave us $25…Season 10 would be funded!